Dear Colleague,
Each year, on March 9, the National Network of Women Living with HIV (Femfatales) celebrate the lives of women with HIV in Australia. We use this day to educate the wider community that HIV does affect women in Australia; and to speak to our network about issues of importance.
This year's National Day of Women Living with HIV (#NDWLHIV) theme is: Taking control of our health because it is important for women living with HIV to focus on their sexual and reproductive health.
We also want to remind all women to prioritise their own healthcare and seek an HIV test as part of their routine health check. Women often forego their own needs to meet the demands of others they care for. Creating the time and a reminder to prioritise their health needs can only have a positive outcome.
Worldwide, there are 38 million people living with HIV and 21 million of these are women. The percentage is much smaller in Australia, with women making up only 10% of the estimated 37,000 people living with HIV in this country. With smaller numbers, women are often not seen as a priority. So, apart from feeling like an invisible minority, women's voices are often underrepresented.
Femfatales invites all organisations, agencies and groups interested in women's health to hold a morning tea or similar event to show your support.
We invite our Australian HIV State and Territory jurisdictions to commit to holding an event that will create an opportunity where women can "Celebrate, Advocate, Inspire and Empower".
Please join our National Network of Women Living with HIV to mark Tuesday 9 March as the National Day of Women Living with HIV and to embrace our theme: Taking Control of our Health.
Katherine Leane
Chair, National Network of Women Living with HIV
Link to previous National Day of Women Living with HIV
Women's Brunch Event in Perth — Sun 7 March
For women living with HIV in Perth, join a brunch hosted by Diane Lloyd, HIV Advocate for NAPWHA's Health Literacy Framework project; and Positive Organisation WA board member.
The brunch will be held on Sunday  7 March 2021 at Stickybeaks Playground Café located in: Kings Park and Botanic Garden.
Register your interest by contacting Diane via email at info@napwha.org.au
Women's Morning Tea Event in Adelaide — Tues 9 March
Women's Afternoon High Tea Event in Sydney — Tues 9 March
Go to the Positive Life NSW webpage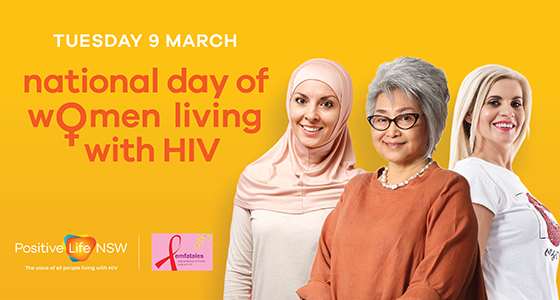 Positive Life NSW and Femfatales invites you and a guest to attend an Afternoon High Tea on Tuesday 9 March 2021, the National Day of Women living with HIV, in celebration of the lives of women living with HIV (WLHIV).
This year's theme for the sixth annual National Day of Women living with HIV is 'Taking Control of Our Health.'
Join us to hear Associate Professor Kathy Petoumenos from the Kirby Institute present on the CLIO WLHIV Cohort study and the importance of WLHV participating in research to gain a greater understanding of how HIV affects our bodies.
We invite you to relax with friends and supporters in a mixed social environment over a classic range of sweet and savoury treats, coffee and a range of tea selections.
Places limited to 50 guests – please RSVP early!
Women's Dinner Event in Darwin — Sat 27 March
For women living with HIV in Darwin, join a dinner hosted in conjunction with Rebekah Lamb (Women's Coordinator) of NTAHC. This event is part of the Health Literacy Framework project; and held in conjunction with NTAHC.
The dinner will be held on the evening of Saturday 27 March 2021, subject to number of expressions of interest.
Register your interest by contacting Rebekah Lamb via email at rebekah.lamb@ntahc.org.au
HIV s100 Prescriber Update – Women
Living with HIV Webinar Series
For HIV s100 Prescribers and medical practitioners interested in HIV care:
In honor of the National Day of Women Living with HIV, ASHM (the national accreditation body for HIV prescribers in primary health settings) has partnered with Positive Life NSW to deliver a two-part webinar series. Each session will include presentations from those with lived experience as well as experts in the field.
Part 1 on 9 March 2021 will be presented by Dr Louis Tomlins, General Practitioner and Sexual Health Physician at Taylor Square Private Clinic and Staff Specialist at Western Sydney Sexual Health Centre. Her presentation will focus on HPV related cancers and cervical screening guidelines.
Click here to download the flyer
Part 2 on 16 March 2021 of this series will be presented by Professor Deborah Bateson, Medical Director at Family Planning NSW, who will lead a discussion on contraception and menopause. The session will also include a presentation by Dr Virginia Furner, Senior HIV Consultant at The Albion Centre, who will be discussing ASHM's guidance on women living with HIV who are considering breastfeeding.
Watch: U=U is Your Story Too (Webinar for Women)
In November 2020, Positive Women Victoria presented a groundbreaking forum and Australian-first, U=U is Your Story Too.
A panel discussion focused on the Undetectable = Untransmittable message as it relates specifically to women.
Watch: U=U is Your Story Too, via the Positive Women Victoria website